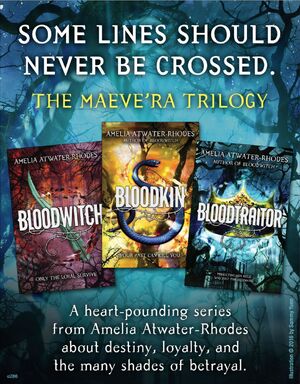 The Maeve'ra Trilogy
is a three book series that was announced in February of 2012 by
Amelia Atwater-Rhodes
. The books were released between 2014 and 2016. Three short stories are also set to be released to go along with the series exclusively to Amazon Kindle. The first two short stories were released in 2015 and 2016.
The first novel in the series, Bloodwitch, was released on May 13, 2014. The second novel, Bloodkin, was released April 14, 2015. The third and final novel, Bloodtraitor, was released on April 12, 2016.
The first short story, The Rebel, was released on February 10, 2015. The Prophet was released on March 15, 2016. No announcement has been made as to exactly when The Assassin will be released.
Like its predecessor, The Kiesha'ra Series, The Maeve'ra Trilogy takes place in the same world as the Den of Shadows.
The Maeve'ra Trilogy
Edit
Main Novels
Edit
Short Stories
Edit
Ad blocker interference detected!
Wikia is a free-to-use site that makes money from advertising. We have a modified experience for viewers using ad blockers

Wikia is not accessible if you've made further modifications. Remove the custom ad blocker rule(s) and the page will load as expected.