Which is your favorite book in The Kiesha'ra Series?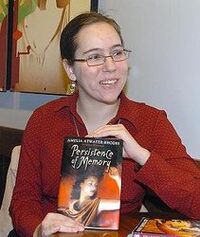 Amelia Atwater-Rhodes is an American author of fantasy and young adult literature known for actively writing two series of books: The Den of Shadows and The Kiesha'ra Series. She was born in Silver Spring, Maryland and lived most of her life in Concord, Massachusetts. Her debut novel, In the Forests of the Night was published in 1999, when she was just fourteen years old. She has published a new young adult novel every subsequent year since her first and has moved from her family's Sudbury home to a nearby Massachusetts town. She was married to her partner Mandi McCrensky on July 4th, 2010.

Read More
---
Ad blocker interference detected!
Wikia is a free-to-use site that makes money from advertising. We have a modified experience for viewers using ad blockers

Wikia is not accessible if you've made further modifications. Remove the custom ad blocker rule(s) and the page will load as expected.